Primary 3/4 Kaimhill Community Library Visit  (22 November 2017)
Our class has been visiting Kaimhill Community Library based in the School building as part of our preparation for Scottish Book Week which begins next week, on Monday 27th November. We met Jackie, the librarian who read a story to us called 'Gorilla Loves Vanilla' by Chae Strathie and Nicola O'Byrne, which we really enjoyed as we all love ice-cream.
We also learned about some of the books we will be reading over the next week.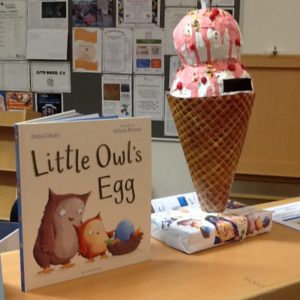 We learned how to join the library and discovered that we can take out up to fifteen books as well as some DVD's. We are able to return books to any library in Aberdeen and order a book if it's not available in our own library. We really enjoyed sorting out the books which Jackie gave us and putting them back in the correct place on the shelves. We learned a lot from our visit to Kaimhill Library. We will have a look at home for books in good condition we no longer want and bring them to school for our 'Book Swap' next week.